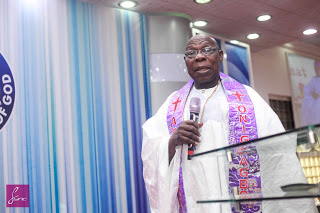 A former Prelate of the Methodist Church Nigeria, Dr. Sunday Mbang, has said former President Olusegun Obasanjo remains the best president Nigeria has ever had.
In giving reasons for his position, Mbang said when considered against the backdrop of the enduring institutions Obasanjo established and his programmes while in office, no one who has served Nigeria as president can match Obasanjo's achievements.
Mbang said this on Sunday while preaching at the former president's 80th birthday thanksgiving service.
It was held at the Chapel of Christ The Glorious King, located inside the Olusegun Obasanjo Presidential Library complex.
Mang spoke on the theme: "Quality of gratitude to God."
Saying he had no apologies for his opinion, Mbang said no other administration had added
to the institutions established by Obasanjo since he left government.


He said such institutions included the Economic and Financial Crimes Commission and the National Agency for Food and Drug Administration and Control.
He also noted that if the successive governments had adopted Obasanjo administration's agricultural programme, Operation Feed the Nation, when he was the military Head of State, the country would not have been spending its hard-earned funds to import food.
He said: "This is a man I have known for a very long time.
"I fell in love with him when I discovered that he held morning devotion every morning in Aso Rock when he became the civilian President.
"The morning devotion was attended by his family members and other people.
"That was why he succeeded in government.
"God never allowed them to impeach him.
"Obasanjo is the best President Nigeria has ever had.
"I have no apology to anybody about it.
"He also built a chapel inside Aso Rock within three months after getting there."
The General Overseer of the Redeemed Christian Church of God, Pastor Enoch Adeboye, prayed for Obasanjo, his children and grandchildren.
Speaking, Obasanjo thanked all those who came from far and near to attend his week-long birthday celebration organised by an arm of OOPL, the Centre for Human Security.
Those present at the church service included the President of Liberia, Ellen Johnson-Sirleaf; former President, Dr. Goodluck Jonathan; Governors Abiola Ajimobi of Oyo State and Okezie Ikpeazu of Abia State; and former Governor of Ogun State, Otunba Gbenga Daniel.