Dayo Enioluwa Adeleke was born on the 5th day of October 1983 in Kaduna State, Nigeria to Late Brigadier General Adekola Alfred Adeleke and Mrs Temisan Adeleke. From the day she was born she has been the centre of our happiness. Fondly called "her majesty".
Dayo's birth names were; Temidayo Eugenia but a few years ago she was led to officially change them to – Dayo Enioluwa.
Though she was the youngest of 4 daughters, she was wise beyond her years. Dayo was always a very cute and well behaved baby and toddler. She was so quiet and sweet faced.
Our earliest memory with Dayo was playing push ball with her in her play pen. She had only just started to sit and we would climb into her play-pen and push her favourite jingling ball
to her and her laughter every time she was able to roll the ball back still melts our hearts. She was such a loved child and overtly the "favourite" of both parents. So much so that our Dad called her "her majesty" and our mum was known as Mama Dayo even though she had 3 kids before "her Majesty" was born!
Dayo was a keen learner and quite attentive in nursery and primary school. She went to early learning nursery where singing and learning went hand in hand. She loved to sing and recite her alphabets to anyone who cared to listen.
After nursery she started at St. Saviour's School Ikoyi. We think she was more impressed with the tie and dye school skirt and the yummy treats at break time than anything else. She was at that school for two years before moving to be with her older sisters in Corona, Ikoyi.
She was so prim and proper and always had to interceed for Tayo with tears whenever she was late coming out of class because Tayo would have messed up in class and was waiting for lashes. She would run into the class and stand between Tayo and the teachers cane crying whilst pleading :" they don't beat her with cane at home, you will kill her. " So this would melt the teacher's heart and he'd pardon Tayo. This happened on numerous occasions. That emboldened, defender spirit was the hallmark of her life.
She hated injustice, defended the defenseless and was of no reputation when it came to making friends. Tailors, makeup artists, drivers, cooks became not just workers in her eyes but friends who called her, whatsapped her. She cared deeply about their struggles and even asked us to pray for her tailor to be delivered from barrenness. She bought clothing by faith for the prayed for child! Such was her heart, such was her devotion.
After Corona, Her Majesty carried on to Queens College. And though we all went to boarding school, our delicate majesty was too precious for boarding. It was at Queens College that she met most of her life long friends. In fact we do many of them an injustice by calling them friends…. They are fiercely loyal sisters. They make the scripture that says….. Better a friend nearby than a sister far away ring true.
She also had a sisterhood of friends from Vivian fowler. How her tentacles reached there we don't know! But as we can see, Dayo is a person of influence. At this point we personally would like to thank Dayo's friends who went to the hospital, who prayed over her, who comforted our Mother when we couldn't. Dayo chose well, we thank you.
At Queens college, our diadem was permitted to board for 1 year in her final year so she could prepare for her finals. She was so excited about her newly found freedom that she quickly became a legend for naughty antics in that one year! I'm sure some of her hair cutting antics weren't quickly forgotten after her departure from Queens (private joke).
After Queens, Dayo joined her sisters in London to continue her education. Her academic journey was bumpy at first but she fought tirelessly to get into an ivy league university, King's College London, where she studied for a 1st degree and Masters in Computer Science.
Despite Dayo's academic accolades, her hearts desire was always to be a midwife, but Dad insisted she went to university to study a professional course so she dutifully obeyed by studying Computer Science. But shortly after, she went back to her first love, to complete a Dullar/midwifery course in taking care of pregnant women and babies.
Children were her love. She had so many babies. So many. Dayo was a wife and mother by proxy. Daniel called her his "other" wife. She would cook and clean. When I say cook, I mean restaurant style meals for Daniel. She was more than a blessing and a mother amongst mothers to all her nieces and nephews. She understood them and they loved her intensely. Her dedication to family and its unity was unwavering.
Dayo joined Auravita UK, where she worked for a few years. She later went into business and started with Groomed…. A tie and cufflink business which paid her enough together with her exclusive seasonal hampers that she did not need a typical 9-5.
In 2009 she joined our sister at 3Line Card Management Ltd. She was fearless and confident about her ability to dream and execute those dreams. But more than that, it was important for her to see the dreams of those around her take off too. She would selflessly lobby for another person's dream. We admired her greatly for that. It was for her, far more blessed to give than receive.
That's why it's all the more devastating as she had taken on her steward because the church place he worked previously could no longer afford his upkeep so she decided to give him a job, not because she actually needed him but because she was approached to help. She trusted him and that's why he had access to do such a dastardly crime.
We spoke to her just a day before her passing as she was blissfully chatting and giggling in the background with her fiancée – Toluwanimi. She was full of dreams and hopes for the future with Tolu. She had found a friend and soulmate. She was so happy, so happy. Our heart goes out to you Tolu. May God deliver you from this sorrow upon sorrow. You are a fiancée of immeasurable value both to her and us.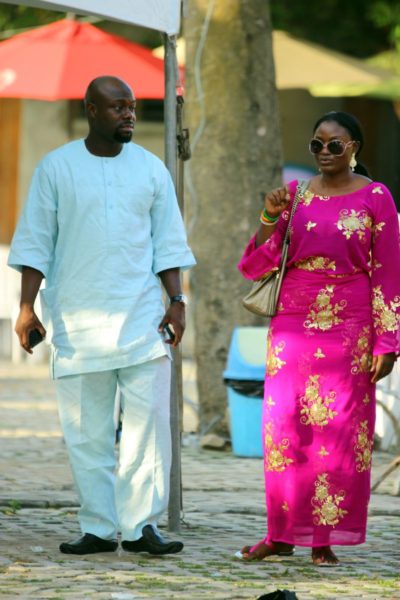 Another calling Dayo cared passionately about and completely dedicated her life to is Guiding Light Assembly. She was a faithful servant in the house of God. No area of service was too high or too low. Her mandate was clear… see a need, fill a need.
It wasn't enough for her to just busy herself with God's work, she desperately wanted to know Him intimately. When GLA introduced the Master life discipleship program in 2014 Dayo was one of the first to sign up. A two year program from start to finish. I remember how proud of her we were when she graduated in Nov 2016 from the 'Mind of Christ' program, the highest stage of the discipleship program. We are deeply consoled that she knew Christ and is with Him.
As we all know, Dayo loved her fashion and her eye lashes. She had her own unique style, always decently dressed yet every head would turn once she walked into the room. It's ironic that she always joked that if she ever died we mustn't bury her without her eyelashes.
Dayo, on a lighter note, in the midst of our deep devastation, we honoured your wishes and your eyelashes are in place!
We celebrate your life and allow God to heal our broken hearts because we know it is in Him we have put our trust.
** Below are photos of Dayo's Cameroonian steward that killed her living a good life in her house. You can't live in such a good environment like the one in those photos, dancing in front of a camera, playing guitar and say you are suffering. Why stabbed her for? Why cut off not bite the hand that fed you? Why take the life of someone that gave you hope
for crying out loud
? Why do such to someone that took you from the dunghill? Why why why why? No matter what, killing shouldn't have been the result**
May your beautiful soul rest in peace!