Team Nigeria's Gold medal has increased by two following the record smashing win by Paul Kehinde and Lucy Ejike at the ongoing Paralympics in Rio de Janeiro Brazil.
Ejike, Team Nigeria's Captain at the Games, did not only win a gold medal but did so in an astonishing manner, shattering the Paralympic and World Record three successive times to dominate the women's -61kg event in Powerlifting.
She broke the Paralympic Record (PR) and World Record (WR) by lifting 136kg, followed by a lift of 138kg, and then a massive lift of 142kg.
Competing in the -65kg men's category on Saturday night, Kehinde lifted 218kg to beat his rivals to the gold medal, setting a new world record in the process.
As if that was not enough, Kehinde went on to beat his own record by lifting a massive 220kg!
China's Peng Hu lifted 200kg to

finish

second, while Egypt's Shaaban Ibrahim lifted 193kg
to win the bronze medal.
This follows the Silver and Gold medals earlier won by Latifat Tijani and Roland Ezuruike respectively in the Games.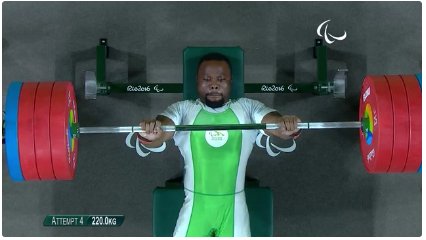 Congrats to our Paralympians. We are proud of you!
Watch Paul kehinde below;
Watch Lucy Ejike here: