In a new book called "Believing In Magic", Magic Johnson's wife of 25 years, Cookie, is spilling some secrets surrounding their life, especially that life-changing moment when Magic Johnson found out he was HIV positive.
In excerpts exclusively obtained by DailyMail, Cookie reveals that Magic, who lived a hard life of partying and unprotected sex, found out he was HIV positive six weeks into their marriage when she was pregnant for their first child EJ.
Magic & Cookie
The couple, who have now been married for 25 years with 3 kids, stayed strong through those trying times when the illness was generally thought only to affect the gay community.
The couple celebrated their 25th wedding anniversary last week. Magic flew in a hundred of the couple's closest friends and family to mark their marriage milestone.
Her memoir reveals that on that night in 1991, the Los Angeles Lakers point guard 'locked himself in a room and called the long list of women with whom he'd been intimate'. He could not remember how many women he had slept with. So he tracked down as many as he
could and gave each a call which would turn their lives upside down.
Cookie writes in the memoir that going through that herself was like being in her own 'personal hell' – one marked by 'silence and darkness, numbness'. She says, 'In just one moment our world, this perfect union we'd fought so hard and so long to have was obliterated.'
Magic had dated on-and-off for 12 years before they got married in 1991 and barely 45 days after their world has shaken.
Hearing the Life Changing News
Talking about how she found out from Magic, she writes that he called her up and said, 'I'm coming home early because I have to tell you something.' She tightened her grip on the receiver and could feel herself becoming nervous.
He said, 'I have to talk to you, but I'm on my way to the doctor's office right now. I'll tell you what's going on when I get home, Cookie. I can't tell you over the phone'.
Cookie writes that her husband's hushed words 'sent a chill creeping over my heart'. She thought he had suffered a career-ending injury, wanted a divorce or was leaving her.
She asked him: 'What's wrong, do you have AIDS or something?' to which he didn't reply. An hour later he came back home.
Cookie writes: 'My husband walked toward me, took my hand into his and slowly marched me back into the den…the two of us sat at the foot of our huge chaise lounge and I held my breath'.
According to her, Magic Johnson told her that she could leave him if she wanted but she grabbed his hand and put it on her belly. 'We're going to beat this together,' she told him and ordered him to get on his knees and pray.
Shifting to Survival Mode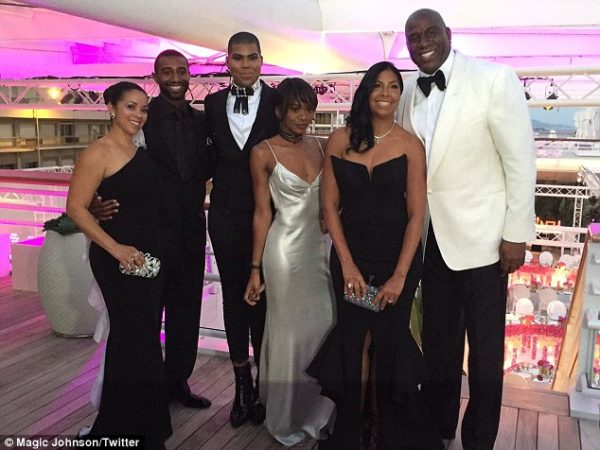 Magic Johnson, WIfe Cookie & Kids
Magic Johnson's doctors had originally told him that he had three years to live. To deal with the stress he shifted into 'warrior mode' and buried himself in organization.
Cookie said that she stopped thinking about the past and the future and she found that the only way to survive was to 'breathe your way through this moment. And the next. And then each one that follows' .
She writes: 'Every morning I would wake up in a panic, worried that I too might be HIV positive and die. Or worse, that my baby would be sick and not make it. The stress coursed through my veins like a poison, occupying practically every moment of my day.'
Thankfully the tests proved negative.
Magic Johnson was convinced to become a public face of the condition by a friend and he has done so excellently for 25 years.
His revelation about his condition forced him to retire from Basketball at 32 and he was also faced with rumours of being gay or bisexual – rumours he dismissed immediately.
After two attempts to rejoin the NBA he left the game for good. He shifted his focus to the Magic Johnson Foundation, which has spent the last two decades educating people about HIV and encouraging community groups.
In her memoir, Cookie writes that throughout she had been at his side. She says that any troubles they went through after their marriage were arguably not as bad as the 12-year on-and-off relationship they had before their wedding.
According to DailyMail, 'Believing in Magic – My Story of Love, Overcoming Adversity, and Keeping the Faith' tells how she and Johnson met in their freshman year at Michigan State University and, despite her misgivings about dating a basketball star, she agreed to be his girlfriend.
Cookie describes her getting close to Johnson as an 'awkward dance towards intimacy' and that the 'prying eyes of other women' were never far away. In the book, Cookie describes how one day after they were dating for three months she went to Johnson's dorm only to find a girl in slippers and a robe 'standing there like she paid rent like that was her place and she was his girl'.
In the book, she writes: 'This would be the first of many times in our romance journey that (Johnson's) fear of commitment and penchant for alpha male dominance would tear us apart'.
They were engaged three times before they finally got married after the fourth.