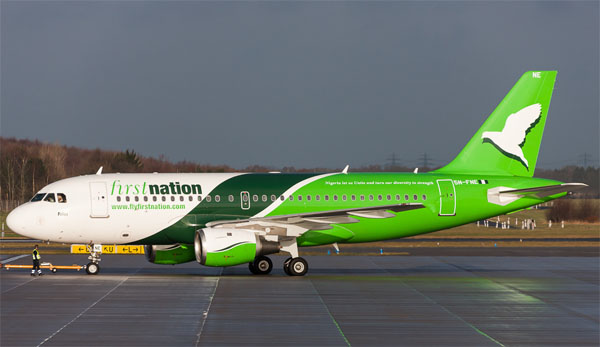 FirstNation Airlines on Thursday announced the suspension of flight operations in the country to enable it to maintain its aircrafts.
A statement signed by the Head of Commercials of the airlines, Serah Awogbade in Lagos, said that the maintenance of the A319 fleet would be completed on or before September 15.
The statement stated that the airline planned the maintenance well ahead, "notified passengers while the flights are being currently loaded online, effective from September 15".
It said that the measure was to ensure that passengers continued to enjoy safe and reliable service that the airline was reputed for.
"Current foreign exchange constraint, coupled with over 70% devaluation of Naira partly
contributed in no small measure to this development. The airline's plan remains on track to reinstating service as advised herein," it said, adding that it was aware of a press statement by the Nigerian Civil Aviation Authority (NCAA) on the issue.
It said that at FirstNation, safety was its priority and it looked forward to reinstating service on completion of fleet upgrade.
The NCAA in its statement earlier explained that FirstNation Airlines was in the middle of an Engine Replacement Programme for one of its aircraft.